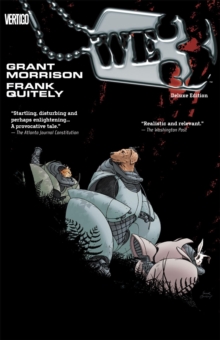 WE3
1401243029 / 9781401243029
26 cm 115 pages : chiefly illustrations (black and white, and colour)
Writer Grant Morrison and artist Frank Quitely deliver the emotional journeyof WE3 - three house pets weaponized for lethal combat by thegovernment - as they search for "home" and ward off the shadowy agencythat created them.
With nervous systems amplified to match their terrifyingmechanical exoskeletons, the members of Animal Weapon 3 (WE3) have the firepowerof a battalion between them.
But they are just the program's prototypes, and nowthat their testing is complete, they're slated to be permanently"decommissioned," causing them to seize their one chance to make a desperate runfor freedom.
Relentlessly pursued by their makers, the WE3 team must navigate afrightening and confusing world where their instincts and heightened abilitiesmake them as much a threat as those hunting them - but a world,nonetheless, in which somewhere there is something called "home."
BIC: