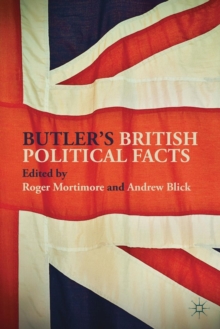 Butler's British political facts
1137567082 / 9781137567086
This book is the most comprehensive single volume reference work available for British political facts.
Covering the period from 1900 to the present, it is the latest edition in a series previously edited by David Butler and various collaborators.
This new edition updates the contents to the immediate post-European Union referendum period in the UK.
It is useful to a wide range of potential readers, including students, educators, journalists, policy professionals, and anyone with an interest in politics and political history.
It will be valuable to academics working in a variety of disciplines, including history and political science.
BIC:
1DBK United Kingdom, Great Britain, 3JJ 20th century, 3JMC c 2000 to c 2010, JP Politics & government