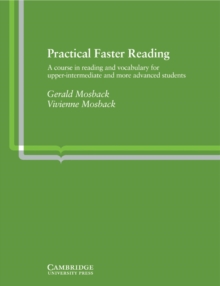 Practical Faster Reading : An Intermediate/Advanced Course in Reading and Vocabulary
0521213460 / 9780521213462
189 x 246 mm, 296 grams 136 pages
ELT / TEFL (Teaching of English as a foreign language) Learn More
Practical Faster Reading provides the basis for a reading improvement course lasting a total of 30 class hours and has proved popular with students and teachers in a variety of settings.
Thirty passages covering a wide range of topics of general interest and accompanying exercises give practice in the reading skills needed at upper-intermediate and more advanced levels.
Substantial increases in reading speed are usually attained with improvements in comprehension and vocabulary.
The full answer key for self-checking also makes this useful for the student working alone.
BIC: