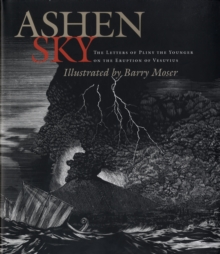 Ashen sky : the letters of Pliny the Younger on the eruption of Vesuvius
0892369000 / 9780892369003
Stock expected by 05/02/2020
Pliny the Younger (C61-112AD) was a Roman official and writer.
He has become famous for his two letters to the historian Tacitus, which detail his eye-witness account of the eruption of Mount Vesuvius in 79AD which took the life of his uncle, Pliny the Elder."Ashen Sky" presents readers with a translation of Pliny's letters, accompanied by stunning black-and-white engravings by acclaimed artist Barry Moser, that magnificently illustrate the various descriptions found in the letters.
Also included is a brief description of the eruption of the volcano, concise biographies of Tacitus, and of both Pliny the Elder and Pliny the Younger, as well as a summary of how the texts of the two letters have survived until today.
BIC:
BJ Diaries, letters & journals, HBG General & world history, HBLA Ancient history: to c 500 CE