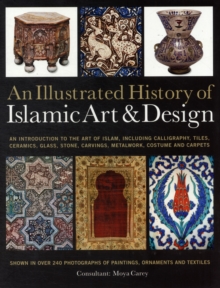 An illustrated history of Islamic art & design : an introduction to the art of Islam, including calligraphy, tiles, ceramics, glass, stone, carvings, metalwork, costume and carpets
1780190336 / 9781780190334
Stock expected by 22/04/2021
30 cm 128 p. : col. ill., col. map, col. ports.
Originally published: as part of The illustrated encyclopedia of Islamic art and architecture. London: Lorenz, 2010.
This title offers an expert introduction to Islamic art, from calligraphy, tiles, costumes and carpets to pottery, woodcarvings and metalwork.
It includes an insightful study of the history of some of the most spectacular artistic achievements of the Islamic world.
It features a wide range of artistry, from Umayyad coins, wood carving and lustreware to Kashan pottery, Indian carpets and Mughal painting.
Expert text describes the technical and stylistic attributes, and places the artefacts in the cultural context of their time and place.
It is stunningly illustrated with over 250 colour photographs, including magnificent fine-art paintings.
It is supplemented with an index of the world's greatest museum-collections of Islamic art today.
The Islamic world has created a wealth of art treasures and this book explores that rich heritage. The diversity of decorative Islamic artforms is simply breathtaking, extending from the formal splendour of Arabic calligraphy of the early Qurans and the beautiful Fatimid woodcarvings of 12th and 13th century Egypt to the elegant Ottoman carpets woven in the 14th and 15th centuries, and the exquisite lusterware produced by potters in Islamic Spain in the 15th century.
Meticulously researched, and lavishly illustrated with more than 250 colour photographs, reproductions and fine-art paintings, this superb book offers a wonderful overview of Islamic art.
BIC: