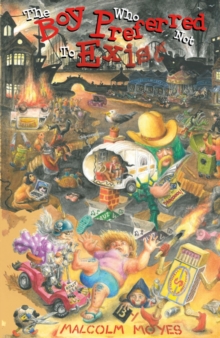 The boy who preferred not to exist
1789010136 / 9781789010138
The third novel for young adults in the 'Arry Trumper' series.
A post-modern story for young adults which synthesises slap-stick comedy with contemporary satiric irony and literary parody. Either in a desperate attempt to evade the petty tyranny of his parents or as a modest gesture of goodwill towards irate parents whose children think he is a legend, Arry Trumper, it seems, has chosen not to exist.
Instead, the pages of this latest Arry Trumper adventure appear to be populated by a gallery of other equally irritating and subversive characters, all seeking legendary status in their battle to outsmart Tracey and Carl Trumper, as well as any other inept adult who has the misfortune to make their acquaintance. Whether it is the innovative street artist Trumpsy, the amazing magician and escapologist Oudini or the purveyor of on-trend techno wigs, R Parry Umrat, there is a strong sense of deja vu, as the story moves inexorably towards its unbelievable climax. In this post-truth world of fake news, horrible imagining and uncertain identity, nothing is, but what is not.
BIC:
5AN Interest age: from c 12 years, YFQ Humorous stories (Children's / Teenage)