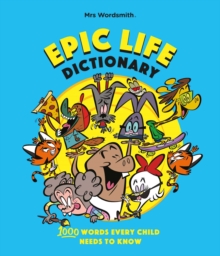 My Epic Life Word Book : 1000 Words to Live By (Illustrated ed)
1999610792 / 9781999610791
210 x 240 mm 252 pages, 252
From the creators of the bestseller Storytellers Dictionary comes the My Epic Life Dictionary for children ages 4-8 years.
All the hilariously illustrated words every child needs to learn to express themselves in today's world.
This is not your average dictionary. It is a dictionary, but it's also a handbook for any child who wants to live a truly epic life.
Designed by literacy experts to be hilariously fun and endlessly surprising, each page bursts with Hollywood illustration.
The words are curated from relevant, global curriculum lists for kids aged four to eight, with extra challenging vocabulary added to the mix.
This dictionary gives children the words they need to express themselves in every part of life from emotions to maths, food to philosophy, making a big mucky mess to cleaning up, as well as a whole section on the future of technology.
BIC:
ES ELT: English for specific purposes, YB Picture books, activity books & early learning material