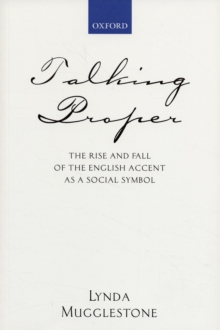 'Talking proper' : the rise of accent as social symbol (Updated 2nd ed)
0199250626 / 9780199250622
Usually dispatched within 4 weeks
24 cm [viii], 360 p. : ill.
general Learn More
postgraduate
research & professional
undergraduate
Reprint. This ed. originally published: 2003.
Talking Proper is a history of the rise and fall of the English accent as a badge of cultural, social, and class identity.
Lynda Mugglestone traces the origins of the phenomenon in late eighteenth-century London, follows its history through the nineteenth and twentieth centuries, and charts its downfall during the era of New Labour.
This is a witty, readable account of a fascinating subject, liberally spiced with quotations from English speech and writing over the past 250 years.
BIC:
2AB English, 3JF c 1700 to c 1800, 3JH c 1800 to c 1900, 3JJ 20th century, 3JM 21st century, CFB Sociolinguistics, CFF Historical & comparative linguistics