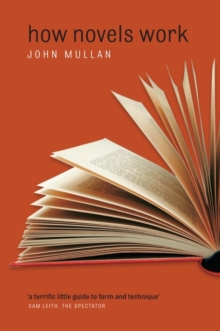 How novels work
0199281785 / 9780199281787
Reprint. Originally published: 2006.
Never has contemporary fiction been more widely discussed and passionately analysed; recent years have seen a huge growth in the number of reading groups and in the interest of a non-academic readership in the discussion of how novels work.
Drawing on his weekly Guardian column, 'Elements of Fiction', John Mullan examines novels mostly of the last ten years, many of which have become firm favourites with reading groups.
He reveals the rich resources of novelistictechnique, setting recent fiction alongside classics of the past.
Nick Hornby's adoption of a female narrator is compared to Daniel Defoe's; Ian McEwan's use of weather is set against Austen's and Hardy's; Carole Shield's chapter divisions are likened to Fanny Burney's.
Each section shows how some basicelement of fiction is used.
Some topics (like plot, dialogue, or location) will appear familiar to most novel readers; others (metanarrative, prolepsis, amplification) will open readers' eyes to new ways of understanding and appreciating the writer's craft.
How Novels Work explains how the pleasures of novel reading often come from the formal ingenuity of the novelist.
It is an entertaining and stimulating exploration of that ingenuity.
Addressed to anyone who is interested in the close reading of fiction, it makes visible techniques and effects we are often only half-aware of as we read.
It shows that literary criticism is something that all fiction enthusiasts can do.
Contemporary novels discussed include: Monica Ali's Brick Lane; Martin Amis's Money; Margaret Atwood's The Blind Assassin; A.S.
Byatt's Possession; Jonathan Coe's The Rotters' Club; J.M.
Coetzee's Disgrace; Michael Cunningham's The Hours; Don DeLillo's Underworld; Michel Faber's The Crimson Petal and the White; Ian Fleming's From Russia with Love; Jonathan Franzen's The Corrections; Mark Haddon'sThe Curious Incident of the Dog in the Night-time; Patricia Highsmith's Ripley under Ground; Alan Hollinghurst's The Spell; Nick Hornby's How to Be Good; Ian McEwan's Atonement; John le Carre's The Constant Gardener; Andrea Levy's Small Island; David Mitchell's Cloud Atlas; Andrew O'Hagan's Personality; Orhan Pamuk's My Name Is Red; Ann Patchett's Bel Canto; Ruth Rendell's Adam and Eveand PinchMe; Philip Roth's The Human Stain; Jonathan Safran Foer's Everything Is Illuminated; Carol Shields's Unless; Zadie Smith's White Teeth; Muriel Spark's Aiding and Abetting; Graham Swift's Last Orders; Donna Tartt's The Secret History; William Trevor's The Hill Bachelors; and Richard Yates's Revolutionary Road .
BIC:
2AB English, DSBH Literary studies: from c 1900 -, DSK Literary studies: fiction, novelists & prose writers