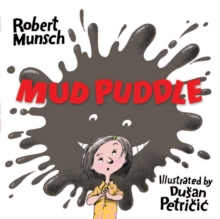 Mud puddle
1554514266 / 9781554514267
23 cm 32 p. : chiefly col. ill.
Reprint. Originally published: 1995.
A brand-new look for a classic story. First published in 1979, this was the first of Robert Munsch's oral stories to be turned into a book.
Since then, it has made countless children (and adults) all around the world laugh out loud. When Jule Ann goes outside, a mud puddle jumps on her and gets her dirty all over.
No sooner does her mother scrub her clean than she ventures out again, only to be pounced upon by the pesky mud puddle.
The cycle continues until finally Jule Ann gets the better of the mud puddle with cheerful ingenuity and two bars of smelly yellow soap. Lively, clever artwork by award-winning illustrator Dusan Petricic gives this bestselling picture book a fresh and energetic look that will charm a new generation of young readers.
BIC: