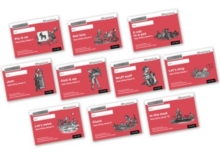 Read Write Inc. Phonics: Black and White Red Ditty Books Mixed Pack of 10
0198372396 / 9780198372394
150 x 212 mm, 314 grams 20 pages, B/W; B/W
Primary & Secondary Education (US: Elementary & High School) Learn More
The decodable Black and White Ditty Books are specially designed for teachers to send home to help children practise reading the Ditties they have been learning in school. Each book contains the same three engaging decodable passages as its corresponding colour Ditty Book, but includes clear guidance for parents at every step.
This support includes parent-friendly notes for the activities at the start of the books to help children to practise the sounds and words they will encounter in the Ditties.
There are clear parent notes for the questions to talk about at the end of the Ditties to help parents develop their childs comprehension. Video support on www.oxfordowl.co.uk/for-home and www.ruthmiskin.com can be used alongside the books to help parents feel confident pronouncing pure sounds.
The books are part of the wider Read Write Inc. Phonics programme, developed by Ruth Miskin. The programme is designed to create fluent readers, confident speakers and willing writers.
It includes Handbooks, Sounds Cards, Word Cards, Storybooks, Non-fiction, Writing books and an Online resource.
Read Write Inc. is fully supported by comprehensive professional development from Ruth Miskin Training.
BIC:
4KHF For National Curriculum Key Stage 1, YQCR5 Educational: English language: readers & reading schemes: Synthetic Phonics, YQCS Educational: English language: reading & writing skills