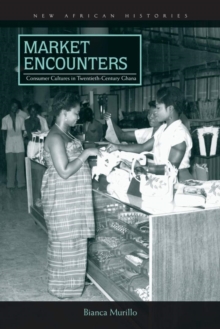 Market Encounters : Consumer Cultures in Twentieth-Century Ghana
0821422898 / 9780821422892
In Market Encounters, Bianca Murillo explores the shifting social terrains that made the buying and selling of goods in modern Ghana possible.
Fusing economic and business history with social and cultural history, she traces the evolution of consumerism in the colonial Gold Coast and independent Ghana from the late nineteenth century through to the political turmoil of the 1970s. Murillo brings sales clerks, market women, and everyday consumers in Ghana to the center of a story that is all too often told in sweeping metanarratives about what happens when African businesses are incorporated into global markets.
By emphasizing the centrality of human relationships to Ghana's economic past, Murillo introduces a radical rethinking of consumption studies from an Africa-centered perspective.
The result is a keen look at colonial capitalism in all of its intricacies, legacies, and contradictions, including its entanglement with gender and race.
BIC:
1HFDH Ghana, 3JJ 20th century, HBJH African history, HBLW 20th century history: c 1900 to c 2000, HBTB Social & cultural history