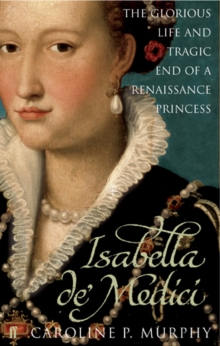 Isabella de' Medici : the glorious life and tragic end of a Renaissance princess
0571230318 / 9780571230310
20 cm 397 p., [8] p. of plates : ill. (some col.), map, ports. (chiefly col.)
Reprint. Originally published: 2008.
Isabella de' Medici was the hostess of a glittering circle in Renaissance Florence.
Beautiful and liberated, she not only matched the intellectual accomplishments of her male contemporaries, but sought sexual parity also, engaging in an adulterous affair with her husband's cousin.
It was this affair - and her very success as First Lady of Florence - that led to her death at the hands of her husband at the age of just thirty-four.
She left behind a remarkable story, and as her legacy a son who became the best of the Orsini Dukes, immortalised by Shakespeare as Duke Orsino in Twelfth Night.
Caroline P. Murphy illuminates this often misunderstood figure, and in the process brings to life the home of creativity, the city of Florence itself.
BIC:
1DST Italy, 3JB c 1500 to c 1600, BGH Biography: historical, political & military, HBJD European history, HBLH Early modern history: c 1450/1500 to c 1700