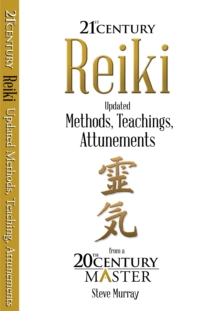 Reiki 21st Century : Updated Methods, Teachings, Attunements from a 20th Century Master
0990446891 / 9780990446897
140 x 216 mm, 0 grams 245 pages
Over the last 21 years, Steve Murray has taught and attuned Reiki to over 350,000 students globally with his books and DVDs! $25 Bonus! The book includes three free downloadable links from Steves DVD and CDs, including: Clairvoyance Attunement video, Reiki Healing Attunement CD, and Brain Wave Entrainment CD.
All can be used with the updated Reiki Healing and Reiki Attunements.
Steve gives step-by-step directions (including photos) for his updated Reiki Healing and Reiki Attunements.
Learn why he updated them and why he believes they are more powerful and effective than ever.
Plus, directions include guidance on giving Reiki to others and yourself, long-distance Reiki, and giving Reiki Attunements for 1st, 2nd, and Master levels.
The book also contains Steves teachings for emotional and physical health.
Teachings include removing Emotional Debris, Soul Retrieval, healing your 2nd heart, Free Will, and his Healers Diet which helps keep him cancer free.
Steves first best-selling book, Reiki: The Ultimate Guide, was published over 20 years ago.
Since then he has published over 65 self-help healing titles, including Reiki books, DVDs, and CDs.
BIC: