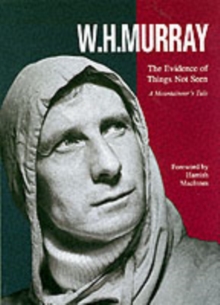 W.H. Murray : the evidence of things not seen
1898573247 / 9781898573241
Usually dispatched within 2 weeks
25 cm 352 p., [40] p. of plates : ill. (some col.)
'In climbing there is an elation when all is going well.
You make the moves surely and swiftly with rhythm. When you are climbing well, you know it. The same goes for writing. The two crafts are often akin ...when you are off form you write clumsily, just as you move clumsily; you pick wrong words as you pick wrong holds.
You lose the purpose and thread of writing as you lose route - but on mountains and in writing when good form is struck, when it all comes together, when inspiration is caught and held - the world is yours.' W.H.
Murray is one of Britain's finest mountain writers. A climber, writer and environmental campaigner, he pioneered climbs in Scotland, explored the Himalaya and wrote a number of remarkable books on climbing and mountaineering. The Evidence of Things Not Seen, his multiple-award winning autobiography, ranges from his early climbs in Scotland in the 1930s to Second World War combat in Africa and three years in Nazi prison camps (during which time Murray wrote his famous Mountaineering in Scotland not once, but twice, on toilet paper). Exploratory Himalayan ventures follow, including the 1951 Everest reconnaissance trip that established the crucial route through the Khumbu Icefall, before his focus returns to the Scottish crags, and to environmental matters and the struggle against the predations of the forestry and hydroelectric industries. Murray's writing captures the element of awe and wonder at the power of wild landscapes.
His philosophical concerns add extra depth to his words as he seeks 'that other side of night'.
He sees the mountain environment as one which offers fine areas for recreation, but also sanctuaries for reflection.
This autobiography is essential reading for mountaineers, climbers, conservationists, thinkers, or indeed anyone that appreciates our remaining wild spaces.
BIC:
* Variable discounts between 0% and 15% are applied to items where BBfS cannot determine exact discounts from suppliers.