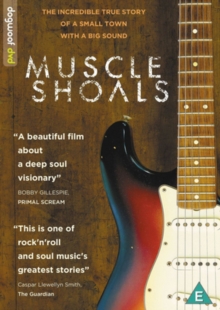 Muscle Shoals
Documentary about the recording studios in Muscle Shoals, Alabama.
Director Greg Camalier travels to the landmark and explains how material recorded here has been an integral part of pop music from the 1950s until now.
Founded by Rick Hall, FAME Studios was known as a place where black and white musicians would come together despite the racial tension which was prevalent in nearby areas.
The backing band for many of these recordings were local white musicians, known later as The Swampers, who then went on to set up their own recording studio - Muscle Shoals Sound - in competition with FAME.
Artists who have recorded at Muscle Shoals and found success while contributing to both studios' growth include Clarence Carter, Aretha Franklin ('Respect'), Percy Sledge ('When a Man Loves a Woman'), Etta James, Candy Stanton, Lynyrd Skynyrd ('Sweet Home Alabama'), Jimmy Cliff, The Rolling Stones ('Wild Horses') and even The Osmonds.
Interviews: Spooner Oldham, Candi Staton, Jimmy Johnson, David Hood, Roger Hawkins, Donnie Fritts
Commentary: Greg Camalier, The Swampers
Other Documentary: 'Muscle Shoals Montage', 'Aretha Call Me Session'