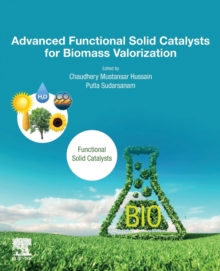 Advanced Functional Solid Catalysts for Biomass Valorization
012820236X / 9780128202364
Advanced Functional Solid Catalysts for Biomass Valorization presents the basic concepts in catalysis, types of catalysis (homogeneous, heterogeneous and enzymatic) and the unique properties of various heterogeneous solid catalysts, including their structure, porosity, surface area, acid-base, and redox properties.
Useful information about biomass production, types of biomass feedstocks available, their structures and properties as well as several chemical transformations needed for the efficient biomass upgrading to useful fuels and chemicals is provided in this book.
Above all, this book covers the most recent developments towards functionalization of various solid catalysts, optimization of catalysts' properties, developing cascade catalytic strategies, exploring reaction kinetics/mechanisms, and evaluating catalysts' stability/reusability during biomass upgrading. This book therefore covers the most significant recent advances in biomass valorization using functional solid catalysts.
Current challenges and opportunities for the future biorefineries as well as for the rational design of advanced functional solid catalysts is critically discussed
BIC: