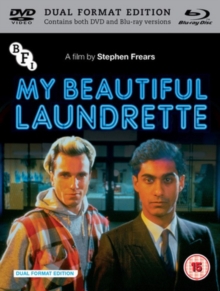 Blu-ray (Blu-ray / with DVD - Double Play)
(15) Suitable for 15 years and over.
Comedy directed by Stephen Frears and starring Saeed Jaffrey, Gordon Warnecke and Daniel Day-Lewis.
The Hussein family of Pakistani immigrants living in London have carved out a relatively prosperous life for themselves in Thatcher's Britain.
Omar (Warnecke)'s branch of the family is not quite so well off however and he is unemployed until his uncle Nasser (Jaffrey) is persuaded into letting Omar manage one of his run-down laundrettes.
In his search for help in running the business, Omar reconnects with former lover and ex-National Front thug Johnny (Day-Lewis).
Naturally, the Front's other racist acolytes do not take kindly to Johnny's betrayal and the reunited couple must reconcile their ambitions and their relationship if either is to succeed.
Interviews: Stephen Frears, Hanif Kureishi, Sarah Radclyffe, Tim Bevan,
Other Documentary: 'Gordon Warnecke on My Beautiful Laundrette', 'Typically British: A Personal History of British Cinema by Stephen Frears', 'I'm British But...', 'Memsahib Rita'