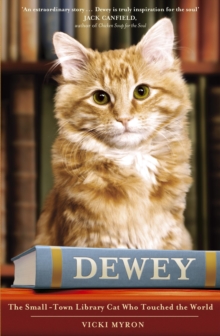 Dewey : the small-town library-cat who touched the world
0340960779 / 9780340960776
Reprint. Originally published: 2008.
How many lives can one abandoned kitten touch? This is the heart-warming and unforgettable story of a truly idiosyncratic cat with a strong sense of loyalty and love, and a taste for fast-food.
When he was just a few weeks old, Dewey Readmore Books was shoved through the book returns slot of his local library in a sleepy town.
Starving, terrified and bruised after being battered by falling books, Dewey curled up into the arms of the library director Vicky.
Vicky was a single mother who had escaped a violent husband and was struggling to bring up her little girl Jodi alone.
Vicky fell in love with the little bundle of fur in her arms and campaigned to allow Dewey to stay and become the library cat.
She didn't know what she was letting herself in for !
Dewey's arrival transformed Vicky and Jodi's lives, as well as the staff at the library and eventually the fortunes of an entire town.
Dewey was an instant hit with the library regulars and had an amazing instinct to cuddle up close to visitors that were going through a tough time.Vicky tells the incredible story of one severely disabled, wheelchair bound girl that Dewey took a shine to and how he would climb inside her jacket as she giggled hysterically and her eyes, usually almost catatonic, burst into life. He supervised children's reading groups and ensured no child felt left out by snuggling into the laps of any outsiders.
He was a ball of mischievous energy and relished in turning the hitherto quiet and predictable routines of the library upside down.
Dewey became the town's number one attraction and he began regularly appearing in the national and international media.
Fans from all over the world visited the small town to pay homage to the world's most beloved cat.
BIC:
* Variable discounts between 0% and 15% are applied to items where BBfS cannot determine exact discounts from suppliers.