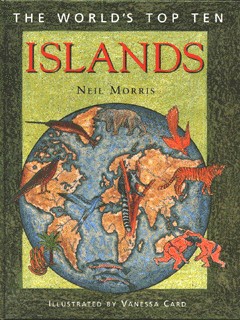 The world's top ten islands
1855613859 / 9781855613850
Usually dispatched within 4 weeks
Representing the top ten islands of the world, this book is part of a series, which depicts the greatest examples of geographic features placing them all in a world context.The book explains how some islands form a country, some are part of another country and others divided between more than one country.
It also describes the formation of islands and how they differ in origin.
The biggest of all the islands is Greenland, which is over ten times larger than Victoria.
These two islands together with Baffin and Ellesmere lie in the cold Arctic Ocean; Great Britain is in the Atlantic; and Madagascar and Sumatra are in the warm Indian Ocean; whereas New Guinea, Borneo and Honshu are all in the world's largest ocean, the Pacific.Through the use of a map on a double-page spread, the ten islands are defined with their respective square kilometres.
The first island, Greenland is described by an overview illustration with the various animal species placed in their habitats above the Arctic circle.
The Inuit people's lifestyle is explained as is the historic origin of Greenland.
The second largest island, New Guinea, lies in the Pacific Ocean, just south of the Equator and north of Australia.
An overview shows the island to be very mountainous and covered in forests.
Being divided into Irian Jaya and Papa New Guinea the two groups of island people live in an entirely different fashion.
Borneo, the third biggest, has many mountain ranges and is covered by rain forest.
It is known for its tropical climate, the orang-utan, longhouses which house as many as 50 families and the network of caves in Sarawak.
On the north coast there is a tiny country called Brunei which is well known for its large reserves of oil and gas.The seven smaller islands, Madagascar, Baffin, Sumatra, Honshu, Great Britain, Ellesmere and Victoria Islands are all individually described, illustrating how they differ from one another.
To complete the theme mention is made at the end of the book of Manhattan Island, the islands of Fiji, Galapagos and Manitoulin Island.
BIC: