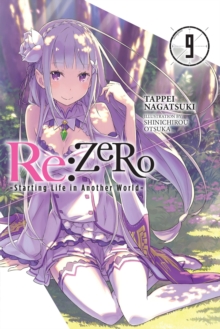 Re:ZERO : starting life in another worldVolume 9
1975356292 / 9781975356293
21 cm 277 pages : illustrations (black and white, and colour)
Translated from the Japanese.
Having lost his deadly duelwith Petelgeuse Romanee-Conti, Subaru Natsuki goes back in time oncemore. Subaru returnsto the world and, yet to shake off the effects of the ferocious battle, workswith his allies to weave a new strategy - all to foil the wicked plans of thebody-hopping Bishop of the DeadlySins. Emilia,remaining behind in Roswaal Manor, also realizes that something lurks in thevicinity of the mansion.
She urges the populace to take refuge, but thecircumstances of her birth prove to be a wall she is helpless to overcome.
Yetthe arrival of the "Sword Devil" offers her a ray ofhope-"If you tell meten things you hate about yourself, I'll tell you twelve that I love aboutyou."The ninth volumeof the popular web novel, a tale of encounters and farewells.
The third arc,Return to the Capital, reaches its conclusion-!!
BIC: