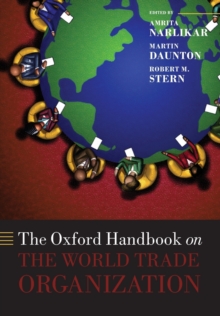 The Oxford handbook on the World Trade Organization
0198714777 / 9780198714774
Usually dispatched within 4 weeks
Professional & Vocational Learn More
Postgraduate, Research & Scholarly
Undergraduate
Reprint. Originally published: 2012.
The Oxford Handbook on the World Trade Organization provides an authoritative and cutting-edge account of the World Trade Organization.
Its purpose is to provide a holistic understanding of what the WTO does, how it goes about fulfilling its tasks, its achievements and problems, and how it might contend with some critical challenges.
The Handbook benefits from an interdisciplinary approach.
The editorial team comprises a transatlantic partnershipbetween a political scientist, a historian, and an economist.
The distinguished and international team of contributors to the volume includes leading political scientists, historians, economists, lawyers, and practitioners working in the area of multilateral trade.
All the chapters present original andstate-of-the-art research material.
They critically engage with existing academic and policy debates, and also contribute to the evolution of the field by setting the agenda for current and future WTO studies.The Handbook is aimed at research institutions, university academics, post-graduate students, and final-year undergraduates working in the areas of international organization, trade policy and negotiations, global economic governance, and economic diplomacy.
As such, it shouldfind an enthusiastic readership amongst students and scholars in History, Economics, Political Science, International Relations, Public Policy, and Law.
Equally important, the book should have direct relevance for diplomats, international bureaucrats, government officials, and other policy-makers andpractitioners in the area of trade and economic governance.
BIC:
JPS International relations, KCLT1 Trade agreements, LBBM International economic & trade law