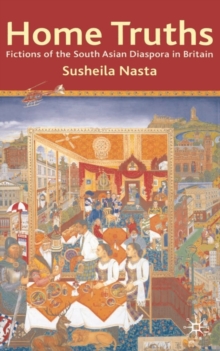 Home truths : fictions of the South Asian diaspora in Britain
033367006X / 9780333670064
postgraduate Learn More
research & professional
undergraduate
The figure of the diasporic or migrant writer has recently come to be seen in the West as the "Everyman" of the late modern period, a cultural traveller who can traverse national, political and ethnic boundaries.
This text seeks not only to place individual works of now world famous writers such as V.S.
Naipaul, Salman Rushdie, Sam Selvon or Hanif Kureishi within a diverse tradition of im/migrant writing that has evolved in Britain since the Second World War, but also locates their work within an historical, cultural and aesthetic framework which has its roots prior to postwar migrations and derives from long established indigenous traditions at "home" and "abroad".
Nasta also examines the work of lesser known writers, including Attia Hosain, G.V.
Desani, Aubrey Menen and Romesh Gunesekera. Close critical readings combine with an historical and theoretical overview in this first book to chart the crucial role played by writers of South Asian origin in the belated acceptance of a literary poetics of black and Asian writing in Britain today.
BIC:
2AB English, DSBH Literary studies: from c 1900 -, DSK Literary studies: fiction, novelists & prose writers