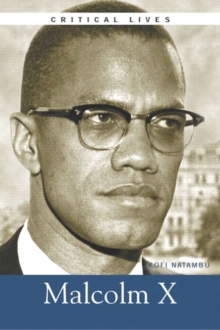 The Life and Work of Malcolm X
002864218X / 9780028642185
Usually dispatched within 2 weeks
146 x 216 mm, 445 grams 312 pages, Illustrations
A critical examination of the life and work of Malcolm X, as well as his profound impact on the political, ideological, and cultural life of the 20th century. -- CMG Worldwide represents the Malcolm X family/estate, with a vested interest in keeping the Malcolm X name prominent in the mind of the public.
Critical Lives: Malcolm X will cover: the childhood of Malcolm Little in the Depression-era Midwest; the rise and fall of "Detroit Red" -- Malcolm's chaotic adolescence as a petty criminal and street hustler; the prison years -- the rebellious, angry, headstrong inmate they called Satan; Malcolm's religious and social allegiance with the Black Muslims (Nation of Islam); the founding and editing by Malcolm of the Nation of Islam (NOI) national newspaper; Malcolm as organizer, teacher, and political advocate -- and Malcolm as husband and father; from Malcolm X to El-Hajj Malik El-Shabbazz -- his attacks on the Civil Rights Movement and his break with the NOI; and the final year -- the surveillance by the FBI and CIA, the assassination at the Audobon Ballroom.
BIC:
* Variable discounts between 0% and 15% are applied to items where BBfS cannot determine exact discounts from suppliers.