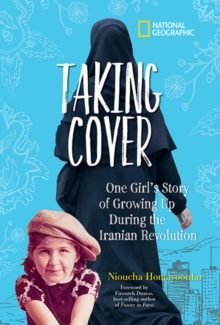 Taking cover : one girl's story of growing up during the Iranian Revolution
1426333668 / 9781426333668
This coming-of-age memoir, set during the Iranian Revolution, tells the story of a young girl who moves to Tehran from the U.S. and has to adjust to living in a new country, learning a new language, and starting a new school during one of the most turbulent periods in Iran's history.
Includes a foreword from best-selling author Firoozeh Dumas. This compelling true story of Nioucha Homayoonfar offers a window into an at-once familiar yet foreign culture.
Religion classes are mandatory at her new school. Nioucha has to cover her head and wear robes. Her cousin is captured and tortured after he is caught trying to leave the country. And yet, in midst of so much change and challenge, Nioucha is still just a girl who listens to music and idolizes pop stars.
But she has to be careful when Western music is banned and she cannot be seen in public together with her new boyfriend.
Will she ever get used to this new way of life? Nioucha's story sheds light on the timely conversation about religious freedom, publishing in time for the 40th anniversary of the Iranian Revolution.
BIC:
YNG General knowledge & trivia (Children's / Teenage), YNN Natural history (Children's/Teenage)