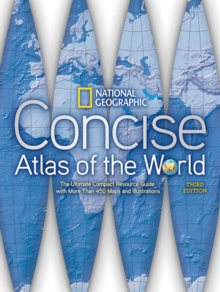 Concise atlas of the world (3rd ed)
1426209517 / 9781426209512
Stock expected by 21/12/2019
35 cm 160 p. : col. ill., col. maps
The complex political, cultural, and environmental issues that we face daily, make it increasingly important for us to have a clear vision of the world in which we live.
With more than 300 updated, authoritative maps, charts, graphs, tables, and country flags, the Concise Atlas of the World, Third Edition offers a succinct, easy-to-use, and yet comprehensive view of our world, today.
The atlas opens with beautifully rendered political and physical maps of the world.
Satellite mosaic imagery shows the world from hundreds of miles above.
Core world geographic themes such as climate, population, religion, economy, and the structure of the Earth follow.
New world thematic topics include landforms, climate and weather, natural disasters, energy, health and education, and conflict and terror.
Whether it's Bahrain in the Middle East or P'yonyang in North Korea, a convenient, intuitive place-name index provides an easy-to-use, access guide to finding locations around the globe.
The variety and expression of traditional and new, expanded content, the invaluable reference, the captivating layouts, the visually engaging, world-renown cartography, the logical, user-friendly design and its very competitive price all make this publication stand out as a great value.
BIC: