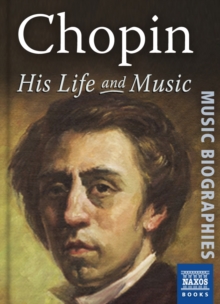 Chopin : his life & music
1843791153 / 9781843791157
Chopin is one of the most universally loved composers, and his contribution to the development of the piano cannot be underestimated.
This biography, by Jeremy Nicholas, offers a clear perspective on Chopin's complex character, whose innermost feelings were only fully expressed in his music.
Generously illustrated, it is both an engaging portrait of the composer and an important work of reference. And with the words comes the music: 2 CDs of carefully chosen pieces spanning Chopin's compositional life.
Furthermore, the purchaser of the book is given access to a dedicated website which offers even more music to listen to, as well as other bonus material.
BIC:
AVH Individual composers & musicians, specific bands & groups, BGF Biography: arts & entertainment
Title Unavailable: Out of Print