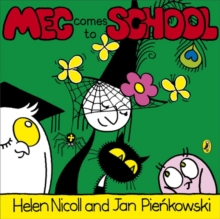 Meg comes to school
0141337125 / 9780141337128
23 cm [30] p. : chiefly col. ill.
Reprint. Originally published: as Owl at school. London: William Heinemann, 1984.
Meg Comes to School is a classic Meg and Mog tale by Helen Nicoll and Jan PienkowskiWhen Meg attends Owl's school sports day in a very unusual hat, everyone is in for a big surprise!Previously published as Owl at School, this humorous Meg and Mog story is reissued with a bright new cover and in a larger, brighter format.
Perfect for sharing or reading alone, children will love exploring the colours, sounds and shapes. Helen Nicoll worked with Jan Pienkowski for over forty years, first at the BBC and then on the Meg and Mog stories.
She owned and ran the audio company Cover to Cover for many years.
Helen lived in Marlborough, Wiltshire. She died on September 30, 2012. Jan Pienkowski is a celebrated illustrator of children's books.
He has won the Greenaway Medal twice - for his illustration of Joan Aiken's The Kingdom Under the Sea and for Haunted House.
Jan lives in London. Look out for all the Meg and Mog stories:Meg and Mog; Three Favourite Stories; Meg, Mog and Og; Meg and Mog; Meg and Mog Play Hide and Seek; Three Terrific Tales; Mog's Missing' Mog in the Fog; Mog at the Zoo; Mog Goes to Bed; Meg Comes to School; Meg on the Moon; Meg's Veg; Meg's Castle; Meg up the Creek; Meg on the Moon; Meg's Car; Meg at See; Meg's Eggs
BIC: