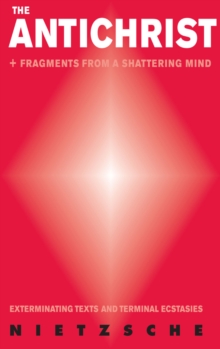 The antichrist : exterminating texts and terminal ecstasies
0971457859 / 9780971457850
Stock expected by 30/01/2020
Reprint. This translation originally published: London: Creation, 2002.
This is a literary assassination of Christianity by the 'philosopher with a hammer' at the height of his power, vitriol, and some say, madness.
Soon after completing The Antichrist, Nietzsche collapsed and never fully recovered, dying two years later.
Negating not only the Bible and its teachings but also reinforcing Nietzsce's insistence on man's survival by the Will to Power, these words a century on still hammer home the devastating, uneluctable message: God is dead!
Includes the previously untranslated Fragments From a Shattered Mind.
BIC: