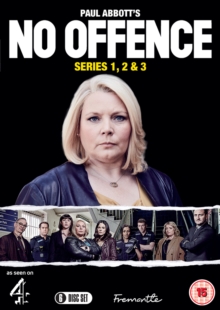 No Offence: Series 1, 2 & 3
(15) Suitable for 15 years and over.
All the episodes from the first three series of the British police procedural comedy starring Joanna Scanlan, Elaine Cassidy, Alexandra Roach and Will Mellor.
The programme follows a tough and unorthodox team of officers working for Manchester Metropolitan Police as they are faced with the task of cleaning up the streets.
Under the command of DI Vivienne Deering (Scanlan), Dinah (Cassidy), Joy (Roach) and Spike (Mellor) face off against arsonists, drug dealers and crime bosses.
But how will they cope with a suspected serial killer on the loose?