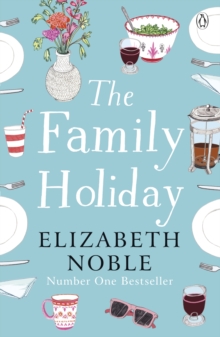 The family holiday
1405934549 / 9781405934541
Escape to the Cotswolds in the heartwarming new novel that will make you laugh, cry and feel truly uplifted, from the bestselling author of the Richard & Judy selection Love, Iris'I loved this book' Katie Fforde'Joyous, touching and funny, a fabulous read' 5***** Reader Review'A summer delight - strawberries and cream in book form.
Wonderful!' Veronica Henry________The only gift Charlie wants for his 80th birthday is his family all together again. Ever since his wife Daphne passed away, and the children grew up into their own busy lives, it's felt like they've drifted apart. So he's invited them all on a family holiday - their first in years. And by some miracle, everyone has said yes. Ten days all together in the Cotswolds . . . how hard can it be?________'The Family Holiday is a perfect read for those who can't be with our own families or go on holiday to get away from them' Red Online'Perfect to cuddle up with in these trying times and escape from reality for a while' 5***** Netgalley Reader Review'Tender, thoughtful and heartrending.
The Chamberlains remind us of the strength and comfort of family bonds' Beth Morrey'An utterly absorbing multi-generational tale...with a touch of summer magic that makes this her best yet.
I adored it' Penny Parkes'With a charming storyline, a fantastic mix of characters and beautifully written prose, this book is perfect' 5***** Netgalley Reader Review'A fantastic feel good read about family, love, trust, letting go and moving on' 5***** Netgalley Reader ReviewPraise for Elizabeth Noble:'Nobody weaves a complex web of stories with quite the same skill as Elizabeth Noble' Sunday Express'Witty, pacy and immediately engaging' Glamour'Noble is a mistress of the tearjerking message of love' Express
BIC:
FA Modern & contemporary fiction (post c 1945), FRD Adult & contemporary romance, FT Sagas