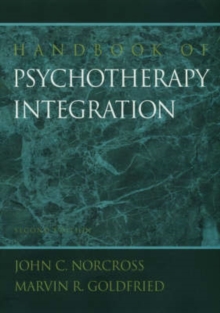 Handbook of psychotherapy integration (2nd ed)
0195165799 / 9780195165791
Stock expected by 17/12/2019
Previous ed.: New York: Basic Books, 1992.
In the 13 years since the publication of the first edition of this book, there has been a growth in psychotherapy integration. The original classic was the first compilation of the early integrative approaches and was hailed by one reviewer as "the bible of the integration movement." In the interim, psychotherapy integration has grown into a mature, empirically supported, and international movement. This second edition provides a state-of-the-art, comprehensive description of psychotherapy and its clinical practices by leading proponents.
In addition to updates of all of the chapters, the new edition features: eight new chapters covering topics such as cognitive-analytic therapy, integrative psychotherapy with culturally diverse clients, cognitive-behavioural analysis system, and blending spirituality with psychotherapy; an entirely new section with two chapters on assimilative integration; updated reviews of the empirical research on integrative and eclectic treatments; chapter guidelines that facilitate comparative analyses and ensure comprehensiveness; and a summary outline to help readers compare the integrative approaches. Blending the best of clinical expertise, empirical research, and theoretical pluralism, the revision of this book will prove invaluable to practitioners, researchers, and students alike.
BIC: