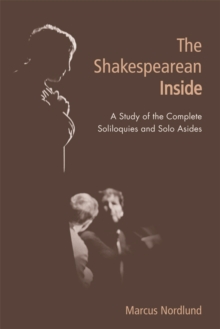 The Shakespearean inside : a study of the complete soliloquies and solo asides
1474431631 / 9781474431637
24 cm 256 pages : illustrations (black and white)
Professional & Vocational Learn More
Tertiary Education (US: College)
The first comprehensive and fully systematic study of all soliloquies and solo asides in Shakespeare's plays'The Shakespearean Inside' is a study of all soliloquies and solo asides (dubbed insides for short) in Shakespeare's complete plays.
The first step in the research process was the creation of the Shakespearean Inside Database (SID) where these speeches were annotated according to variables of genuine literary interest (such as act, dramatic subgenre, probable time of composition, dramatic speech acts, selected figures of speech, and character attributes such as gender and class).
Such comprehensive and detailed data makes it possible to generalize dependably about Shakespeare's authorial habits, and, by extension, to identify situations where the author departs in interesting ways from his habitual practices.
The monograph uses these broad patterns and significant exceptions as a backdrop for fresh interpretations of various Shakespeare plays (from early works such as 'The Taming of the Shrew' and 'The Two Gentlemen of Verona' to mature tragedies like 'Hamlet' and late plays like 'The Tempest' and 'The Two Noble Kinsmen').Key FeaturesA unique combination of digital annotation and traditional interpretive practices offering fresh insights into Shakespeare's soliloquies and solo asidesBased on a new type of data that allows for dependable and transparent generalisations about Shakespeare's habitual practices, and significant departures from these practices, over time and across subgenresSheds new light on a number of Shakespeare plays, from early comedies to mature tragedies and late romances
BIC:
2AB English, DSBD Literary studies: c 1500 to c 1800, DSGS Shakespeare studies & criticism