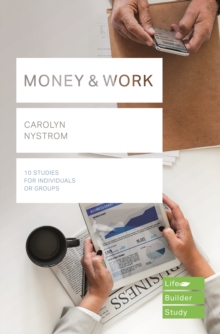 1783596988 / 9781783596980
Money and work - these words alone can cause anxiety.
But we shouldn't worry - God wants us to live in freedom, trusting him and learning to manage our gifts wisely and generously.
Here, we explore questions such as: 'What is my time worth?', 'How much is enough?' 'What if I lose it all?' This LifeBuilder Bible Study points to God's trustworthiness and generosity to help us rest in the peace he offers. With more than 130 titles, the LifeBuilder Bible Studies series delivers sound biblical content and raises thought-provoking questions.
It provides a unique Bible study experience for individuals and groups.
BIC:
HRCG7 Bible studies: for individual or small group study, HRCV Christian life & practice