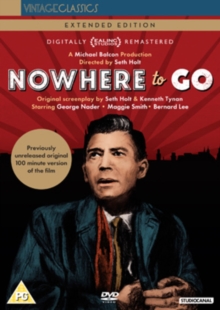 First-time director Seth Holt's stylish noir drama stars George Nader as a fugitive on the run from the police.
Sentenced to ten years in prison for robbing an old lady of her valuable coin collection, Canadian thief Paul Gregory (Nader) is swiftly sprung from jail by his former partner-in-crime Victor Sloane (Bernard Lee).
Hoping to retrieve his ill-gotten gains, his plans are derailed when a series of double-crosses forces him to go on the run.
With the police hard on his tail, Gregory finds himself crossing the Welsh countryside with socialite Bridget Howard (Maggie Smith, in her debut role) in tow.
Other Documentary: 'Revisiting Nowhere To Go'