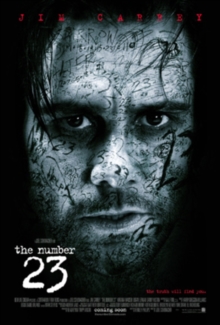 (15) Suitable for 15 years and over.
Thriller starring Jim Carrey. Walter Sparrow (Carrey) is a middle-aged dogcatcher whose wife Agatha (Madsen) has bestowed him with an obscure mystery novel detailing the investigation launched by a tough-talking gumshoe named Fingerling (also Carrey) whose every move seems to be overshadowed by the number 23.
After noting a series of alarming parallels shared between the fictional detective and himself, Walter is quickly drawn in to the story.
His mind fast descending into a dark and violent whirlwind of madness, Walter enlists the aid of Agatha and the pair's adolescent son Robin (Logan Lerman) in seeking out the author of the mysterious tome and uncovering the sinister truth behind the enigma.