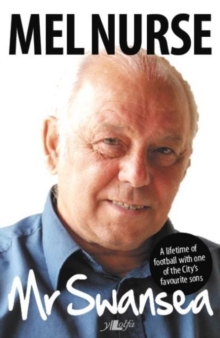 1847711472 / 9781847711472
Usually dispatched within 2 weeks
The autobiography of Welsh football legend, Mel Nurse, ghost written by Peter Jones. Mel Nurse served his hometown football club Swansea Town with distinction in two spells between 1955 and 1971, and also his country Wales, alongside legends like the Charles brothers, Ivor Allchurch and Cliff Jones in a golden era for Welsh football.
But that is only half the Mel Nurse story. After retiring from the game Mel kept a close eye on his beloved club, now Swansea City, as they enjoyed a meteoric rise through the divisions under John Toshack.
But in the dark days that followed the club were back in the Fourth Division, and in 1985 wound up. Mel Nurse, now a successful local businessman, was among a group of directors who put together a rescue package to save the ailing club.
When in 2001 the Swans were again on the verge of bankruptcy, Mel stepped in once more to save Swansea City and lay the foundations for the resurgent force they are today.
A true local hero, from an area rich in sporting and cultural icons, Mel Nurse shares his fascinating, frank, funny and sometimes moving memories of a lifetime in football.
BIC:
1DBKW Wales, 3JJPG c 1945 to c 1960, 3JJPK c 1960 to c 1970, BGSA Autobiography: sport, WSJA Football (Soccer, Association football)