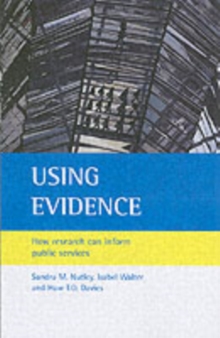 Using evidence : how research can inform public services
1861346646 / 9781861346643
There is widespread commitment across public service agencies in the UK and elsewhere to ensuring that the best available evidence is used to improve public services.
The challenge is not only making research evidence accessible and available but also getting it used.
This book provides a timely and novel contribution to understanding and enhancing evidence use.
It builds on and complements the popular and best-selling "What Works?: Evidence-based Policy and Practice in Public Services" (Davies, Nutley and Smith, Policy Press, 2000), by drawing together current knowledge about how research gets used and how this can be encouraged and improved.
In particular, the authors: provide a multidisciplinary framework for understanding the research use agenda; consider how research use and the impact of research can be assessed; summarise the empirical evidence from the education, health care, social care and criminal justice fields about how research is used and how this can be improved; draw out practical issues that need to be addressed if research is to have greater impact on public services. Using evidence is important reading for university and government researchers, research funding bodies, public service managers and professionals, and students of public policy and management.
It will also prove an invaluable guide for anyone involved in the implementation of evidence-based policy and practice.
BIC: