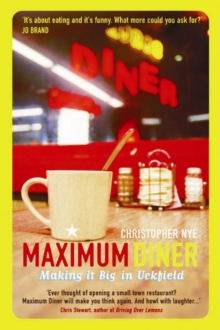 Maximum diner : making it big in Uckfield
0954221737 / 9780954221737
Stock expected by 29/01/2020
This is a book about a dream. The dream of running a restaurant. In Uckfield, East Sussex. Well, okay, Uckfield didn't actually appear in the dream.
But for Chris Nye it was the perfect choice: a small town, but not too small; a town with a rising, young population that was literally crying out for an American-style Diner; a town without a McDonalds.
So here is the story of how to make it big in Uckfield.
How to find the right premises (if not quite the right location); how to hire teenage staff with vital teashop experience while giving work experience to a haute cuisine chef; how to cater for customers who pop in at 11.20pm on a Friday night, flexing their tattoos after they've been thrown out of the pub; how to avoid paying VAT on a Big Max and fries; and why you should never, ever, hire an Elvis impersonator on the cheap.
Oh and how to deal with McDonalds, when they suddenly realise they need an outlet in Uckfield after all.
Maximum Diner is a tale of all this and more. Read it and laugh. And keep that dream alive. For this might all happen to you.
BIC:
BGBA Autobiography: business & industry, TTVC Hotel & catering trades