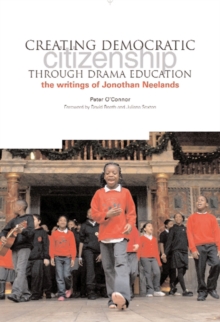 Creating Democratic Citizenship Through Drama Education : The Writings of Jonothan Neelands
1858564565 / 9781858564562
Stock expected by 10/04/2020
170 x 244 mm, 340 grams 186 pages, Illustrations, unspecified
The relationship between theatre, democracy and pedagogy is explored through the theory and practice of Jonothan Neelands.
This selection of his seminal texts in drama education over the last twenty five years shows how Neelands developed classroom participatory democracy through ensemble based theatre education.
They feature: Neelands' development in the 1980s of the conventions approach which made Dorothy Heathcote's and Gavin Bolton's 'living through drama' more accessible to classroom teachers and which has come to dominate drama curricula across the globe; his defence - along with Cecily O'Neill - of progressive drama education against the challenge by David Hornbrook and Peter Abbs in the early 1990s; his passionate arguments for drama as both pedagogy and discipline; his criticism of the privileging of high art over popular art; and, his call for theatre education which is both presentational and representational, and for drama's place within the English rather than the arts curriculum.
It also features: his response to 9/11: that drama is crucial in an age of uncertainty and intolerance: the humanising and democratising principles that define drama in education are a potent challenge to extremism; and, his argument that ensemble based theatre education allows young people to learn to act upon the world and bring about real change.
Professor Jonothan Neelands is a National Teaching Fellow, the Chair of Drama and Theatre Education, and Director of Teaching and Learning at the University of Warwick UK and runs a Post Graduate Award for RSC actors.
Dr. Peter O'Connor is Director of the acclaimed Applied Theatre Consultants and adjunct associate professor at the University of Sydney and a senior research fellow at the University of Auckland.
BIC:
JNUM Teachers' classroom resources & material, YQD Educational: drama studies, YQN Educational: Citizenship & social education