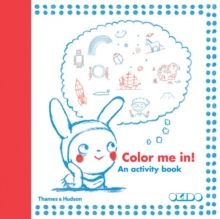 Colour Me In! : An activity book
0500650179 / 9780500650172
230 x 230 mm, 500 grams 128 pages, Illustrated in colour throughout
A hands-on activity book jam-packed with fill-in, on-the-page games and puzzles, including: doodles, counting, spotting, sorting, colouring, dot-to-dot, spot the difference and matching up.
This is a bumper book that features all the classic activities that children love but with a quirky OKIDO twist.
Play germ sudoku by completing the grid of bacteria; make an `elegator'; turn fruit and vegetables into superheroes; draw pictures of body sounds such as burps, whistles and rumbling tummies; match the monsters to their footprints.
In the spirit of all OKIDO projects, the activities stimulate creativity and inspire interest in the sciences as well as being fun.
BIC: