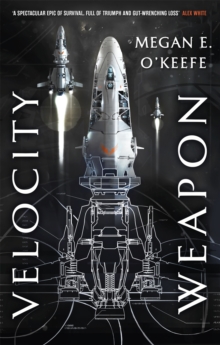 Velocity weapon
0356512223 / 9780356512228
'A brilliantly plotted yarn of survival and far-future political intrigue' Guardian ***SHORTLISTED FOR THE PHILIP K.
DICK AWARD***The last thing Sanda remembers is her gunship exploding. She expected to be recovered by salvage-medics and to awaken in friendly hands, patched-up and ready to rejoin the fight.
Instead she wakes up 230 years later, on a deserted enemy starship called The Light of Berossus - or, as he prefers to call himself, 'Bero'. Bero tells Sanda the war is lost. That the entire star system is dead. But is that the full story? After all, in the vastness of space, anything is possible . . . Dazzling space battles, deadly galactic politics and rogue AI collide in Velocity Weapon, an epic space opera from award-winning author Megan E.
O'Keefe. Praise for Velocity Weapon'An entertaining SF thriller' SciFiNow'Furious action sequences, funny dialogue, and a plot that will keep you guessing every step of the way' K.
B. Wagers'Velocity Weapon is fast-paced, twisty, edge-of-your-seat fun.
Space opera fans are in for a massive treat!' Marina J.
Lostetter
BIC: