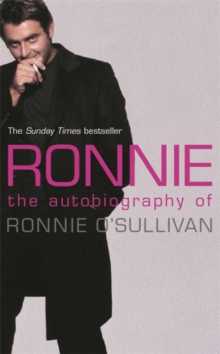 Ronnie : the autobiography of Ronnie O'Sullivan (Rev. ed)
0752858807 / 9780752858807
20 cm v, 298 p., [24] p. of plates : ill., facsims., ports.
Revised and updated for the paperback edition The hardback edition was on the SUNDAY TIMES bestseller list for over three months Ronnie O'Sullivan is far and away snooker's most written and talked about player, and its greatest showman In this inspiring and brutally honest autobiography Ronnie reveals the highs and lows of his career, and also his depression, drinking and the jailing for life of his father Major serialisation in THE SUN for the hardback publication, plus a full promotional tour Published to coincide with the Snooker World Championships 2004 Author signings and additional PR/me
Ronnie O'Sullivan's supreme talent and style have made him the People's Champion.
At 15, he became the youngest player to compile a recognised maximum break; at 17, he became the youngest winner of a world-ranking tournament; in 1997 he recorded the fastest 147 break in history; and in 2001 he confirmed his legendary status by winning the Embassy World Title.
His autobiography details more than the sporting triumphs of a man the BBC speculates 'could become the world's greatest ever'.
It also tells of the infant who was introduced to legendary snooker clubs at an impossibly early age, of the boy who was taking on and defeating all comers at 12 and frightening off the bookies in the process, of the teenager whose life was decimated when his father and mentor was sent to prison for life; of the man dubbed the 'genius' of the modern game who regularly threatens to quit the sport to pursue other interests.
BIC: