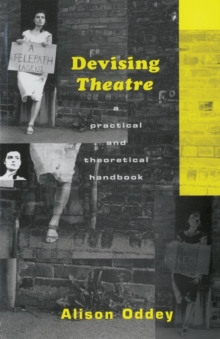 Devising theatre : a practical and theoretical handbook
0415049008 / 9780415049009
Reprint. Originally published: 1994.
This handbook combines critical analysis of contemporary devised theatre practice with commentary on a selection of theatre companies, including: Greenwich Young People's Theatre Company; Forced Entertainment; Age Exchange; Impact Theatre; and Lumiere and Son.
Alison Oddey both provides practical suggestions for groups devising theatre from scratch and outlines the historical developments and context of "devised theatre" as a performance genre.
BIC: