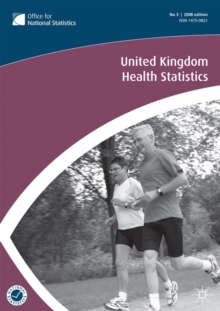 United Kingdom health statistics (2008 ed)
0230210961 / 9780230210967
From The Office for National Statistics, this volume uniquely offers detailed health statistics on all four countries in the UK.This volume uniquely provides statistics for all 4 countries in the UK - enabling comparisons between Wales, England, Scotland and Northern Ireland.
It addresses topical issues such as the health implications of smoking and pollution.
The volume is compiled by the ONS - a highly trusted government agency.This rare compendia offers detailed health data across all of the UK.
With statistics ranging from trends in cigarette smoking, road accident casualties and pollution, it offers a valuable opportunity to break down nationwide data on health and the environment into comparable figures for England, Wales, Scotland and Northern Ireland.
BIC:
1DBK United Kingdom, Great Britain, GBC Reference works, JHBC Social research & statistics, MBP Health systems & services