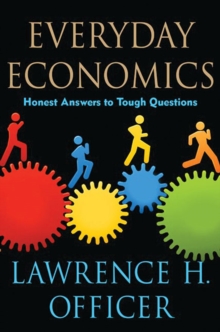 Everyday economics : honest answers to tough questions
0230617115 / 9780230617117
Usually dispatched within 4 weeks
Written in a Q&A format, this book covers all the questions you have about our global economy. Organized thematically these questions cover Financial Markets; Personal Finance (Your Money); Central Banks (The Fed); Employment and Compensation; Globalization and Markets; Economics Bubbles and Bursts (Cycles) and the governments role in model economics.
The book will answer questions such as: Could national economies reach a right balance between government economic intervention and the market freedom? Why capitalism is better than communist economy? Why was deregulation of the financial industry so firmly sought by the US government? Was it this deregulation that caused the recent downturn in the US economy?
The author, Lawrence Officer is an economic historian and will provide background perspective on today's modern economics.
BIC:
* Variable discounts between 0% and 15% are applied to items where BBfS cannot determine exact discounts from suppliers.