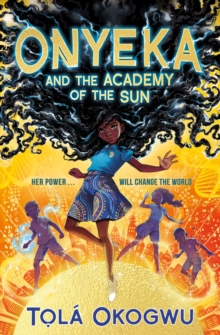 Onyeka and the academy of the sun
1398505080 / 9781398505087
Black Panther meets Percy Jackson in this action-packed and empowering middle-grade superhero series about a British-Nigerian girl who learns that her Afro hair has psychokinetic powers.
Soon to be a feature film with a major streamer! I close my eyes, trying to push the power bubbling in me back down . . . Hairbands snap as my hair shoots out like superfine arrows, tearing through everything in its path. Onyeka has a lot of hair - the kind that makes strangers stop in the street.
She's always felt insecure about her vibrant curls, until she makes an important discovery: she can control her hair with her mind!
Her mother quickly whisks her off to the Academy of the Sun, a school in Nigeria where Solari - children with superpowers - are trained.
But Onyeka and her new friends at the Academy soon have to put their powers to the test as they find themselves caught up in an epic battle . . . one that puts the future of all Solari at risk. Praise for Onyeka and the Academy of the Sun: 'Exhilarating and original, Onyeka is the superhero you've been waiting for.' Kiran Millwood Hargrave, author of The Girl of Ink and Stars 'Brilliant characters, action-packed plot, heartfelt themes of identity, family and friendship.
A DAZZLING story about finding your power.' Sophie Anderson, author of The House with Chicken Legs 'An incredible story that reinvents the concept of a school for magical kids.
So inspiring and creatively original.' L. D. Lapinski, author of The Strangeworlds Travel Agency 'Fast-paced, action-packed and empowering.
Tola Okogwu's storytelling shines so bright you'll want the next instalment immediately.' A.
F. Steadman, author of Skandar and the Unicorn Thief 'An inspiring, original and exciting roller coaster of a book.' Katie Tsang, co-author of Dragon Mountain 'A rich and gripping story of discovering that your greatest power can come from within.
I loved it!' Lisa Thompson, author of The Goldfish Boy 'Brilliant, witty writing and spot-on characterisation.' Louie Stowell, author of Loki: A Bad God's Guide to Being Good 'A thrilling, magical page-turner.
Children will fall in love with this story.' Jenny McLachlan, author of The Land of Roar 'Wildly fun and a huge breath of invigorating fresh air.' Sam Copeland, author of Charlie Changes Into a Chicken 'A thrilling, action-packed adventure full of heart.
Onyeka is sure to be everyone's new favourite superhero.' Hannah Gold, author of The Last Bear
BIC:
YFB General fiction (Children's / Teenage), YFC Adventure stories (Children's / Teenage), YFH Fantasy & magical realism (Children's / Teenage), YFN Family & home stories (Children's / Teenage), YFS School stories (Children's / Teenage), YNX Mysteries, the supernatural, monsters & mythological beings (Children's/Teenage), YXL Personal & social issues: self-awareness & self-esteem (Children's / Teenage)