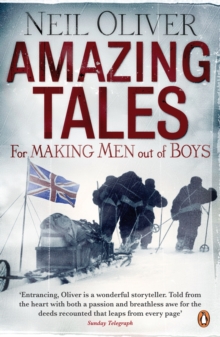 Amazing tales for making men out of boys
0141035595 / 9780141035598
20 cm xvii, 346 p., [8] p. of plates : ill., ports.
Reprint. Originally published: London: Michael Joseph, 2008.
Discover inspiring stories of heroism, adventure, endurance and survival from throughout history.
Captain Robert Falcon Scott didn't start out life as a hero.
In fact, as a boy he was considered small, frail and shy.
So what was it that turned this ordinary man into a legend?
Through his gripping account of how this modest naval officer became Scott of the Antarctic, Neil Oliver vividly relates the awe-inspiring tales of brave men that inspired Britain's greatest hero, including Nelson, Sir John Moore, and the Demons of Camerone. And alongside these epic stories of courage, fortitude and sacrifice, Oliver recounts how the spirit of Scott lives on - from Neil Armstrong and the Apollo 13 mission, to the SAS and the Battle of Mirbat. Young and old alike will enjoy reading these brave stories of men who understood - as Scott always did - that it was more important to die a hero than live a coward's life. ________ 'A joy from start to finish' Sunday Telegraph'A great book . . . I shall treasure it' Sir Ranulph Fiennes'A must-have collection' The Times
BIC: