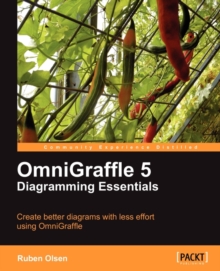 OmniGraffle 5 Diagramming Essentials
1849690766 / 9781849690768
Usually dispatched within 4 weeks
This is a very visual book with more than 750 illustrations and screenshots, never leaving any intermediate steps out from the tutorials.
It contains precise tutorials that explain the various tools, how to use them, and the visual results.
The examples used in the book are an excellent starting point for your own diagrams, both as ideas and as true diagrams - all the diagrams in the book can be downloaded for your own use.
This book is written for both beginners and seasoned users of OmniGraffle.
If you are new to the software, then this book will teach you everything you need to know to make stunning diagrams.
For seasoned OmniGraffle users, this book contains a lot of tricks and techniques that will save their work and time.
BIC: