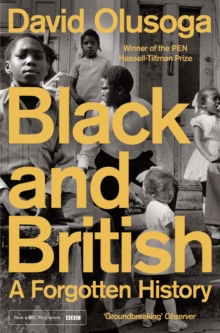 Black and British : a forgotten history
1447299760 / 9781447299769
20 cm xxii, 602 pages, 32 unnumbered pages of plates : illustrations (black and white, and colour)
Reprint. TV tie-in. Originally published: London: Macmillan, 2016.
'[A] comprehensive and important history of black Britain . . . Written with a wonderful clarity of style and with great force and passion.' Kwasi Kwarteng, Sunday TimesIn this vital re-examination of a shared history, historian and broadcaster David Olusoga tells the rich and revealing story of the long relationship between the British Isles and the people of Africa and the Caribbean.
Drawing on new genealogical research, original records, and expert testimony, Black and British reaches back to Roman Britain, the medieval imagination, Elizabethan 'blackamoors' and the global slave-trading empire.
It shows that the great industrial boom of the nineteenth century was built on American slavery, and that black Britons fought at Trafalgar and in the trenches of both World Wars.
Black British history is woven into the cultural and economic histories of the nation.
It is not a singular history, but one that belongs to us all. Unflinching, confronting taboos and revealing hitherto unknown scandals, Olusoga describes how the lives of black and white Britons have been entwined for centuries. Winner of the 2017 PEN Hessell-Tiltman Prize. Winner of the Longman History Today Trustees' Award. A Waterstones.com History Book of the Year. Longlisted for the Orwell Prize. Shortlisted for the inaugural Jhalak Prize.
BIC:
1DBK United Kingdom, Great Britain, HBJD1 British & Irish history, HBTB Social & cultural history, JFSL3 Black & Asian studies
£9.74
RRP £12.99
The title has been replaced. To check if this specific edition is still available please contact Customer Care +44(0)1482 384660 or schools.services@brownsbfs.co.uk, otherwise please click 9781529065602 to take you to the new version.
Other Formats